Graduating Students
Congratulations prospective graduate! The University of Wyoming will be hosting Spring Commencement on Saturday, May 13th, 2023!
To help you navigate what you will need to celebrate your achievement, you are invited to join us at the University Store for Grad Fair. Join us at the University Store from 8:00 am to 5:00pm on March 30 & 31!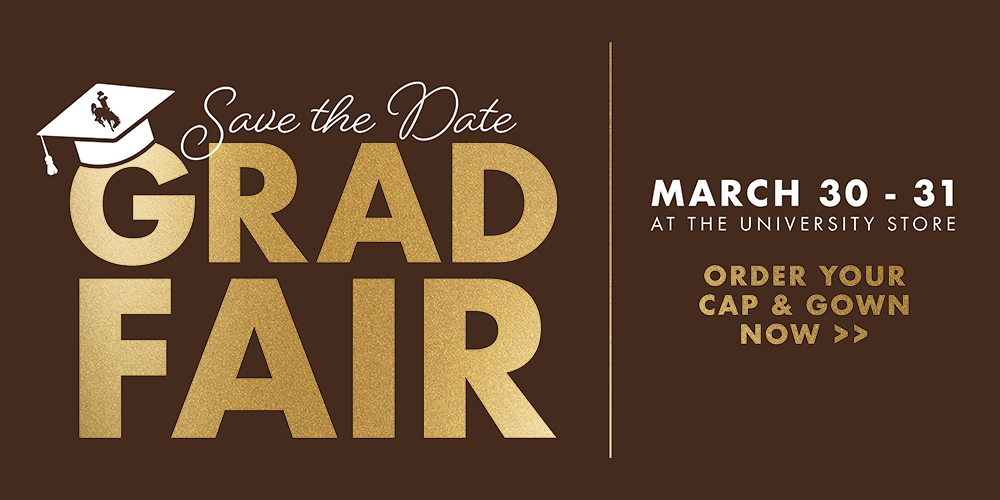 ORDER YOUR REGALIA!
If you are participating in the in-person ceremony, you will need to order your ceremony required regalia items listed below.
Undergrad: Gown, Long Stole, Cap, College Color Tassel
Masters: Gown, Long Stole, Cap, College Color Hood, College Color Tassel
Doctorate: Gown, Hood, Tam

Please note, regalia purchased is non-returnable. Please make sure you check your degree program with the office of the registrar to ensure you are ordering the correct color tassel and/or hood. Graduating Law Student Regalia is Rental Only. Please click the link above, select "Graduation Caps & Gowns" to order your rental regalia. Additional masters degree hoods for law students are also available to rent if applicable.
ORDER YOUR DIPLOMA FRAME!
The University Store carries a wide selection of diploma frames to frame your achievement! Please click the link below to shop our selection. If you don't find what you are looking for out of our in stock frames, please visit this link link to begin designing your custom frame!
ORDER YOUR ANNOUNCEMENTS!
CB Announcements is our preferred vendor for all your graduation announcement needs. Please click the link below to begin your custom order. We also have standard announcements if you would like to create your own! Please click the link below to order standard announcements.
ORDER YOUR CLASS RING!
Showcase your University of Wyoming pride in style with Jostens' collection of stunning class rings! Browse multiple designs and order a ring that celebrates your University of Wyoming accomplishments and your style. You can order your ring now by selecting the button below.
Jostens also offers multiple other commemorative jewelry styles including the Sarah Chloe Collection and the Luxe Collection. Click Here to shop custom jewelry.
SHOP OUR ALUMNI COLLECTION!
We have a whole assortment of Alumni gear to help you celebrate that you are now a University of Wyoming Alumni! Shop our Alumni Collection here:
We also have graduation gifts and memorabilia to help you celebrate. Shop memorabilia here:
SHOWCASE YOUR ALUMNI PRIDE WITH A LAWN SIGN!
We offer an assortment of lawn sign options to showcase your achievement to all who drive by! Our lawn signs are shipped directly from our vendor to your home, so please allow at least 2-3 days for delivery.
Not eligible for in-store pick-up or expedited shipping. Direct ship lawn signs non-refundable. If you are ordering a custom name sign, please indicate the name you wish to write on the sign in the comment field of the order.
GET JOB INTERVIEW READY!
You are now ready for the real world! Congrats! Shop our assortment of padfolios to help you get interview ready!
STAY IN TOUCH!
Keep in touch after graduation by entering your non-UW email address. We'll send you updates on University Store events, promotions, and coupon codes.
If you would prefer to receive text message updates, click here▸
ADDITIONAL RESOURCES
More resources regarding nursing pins and fine quality gowns can be found below:
Custom licensed fine quality regalia is available to any graduating student or Alumni. Typically fine quality regalia is reserved for individuals who pursue a career as a professor and may need a fine quality gown to use at future commencement ceremonies. There are 2 options for fine quality gowns that the University Store offers:
Custom brown and gold gown, hood, and tam: These purchases go directly through the University Store. Please click this link to access the measurement form that will need to be filled out to ensure the gown is made to the individual's exact measurements. Email the measurement form, along with the degree (ex. masters in zoology, doctorate in animal science, etc.), name, phone number, and shipping address of the individual ordering to uwyostore-uwgear@uwyo.edu. Doctoral regalia sets are $610. Since gowns are custom, payment will need to be processed over the phone with the University Store before the order will be submitted to Jostens.
Custom fine quality black gown, hood, and tam: Purchases for black fine quality gowns will go through this link. These are for individuals who did not graduate from the University of Wyoming OR simply UW Alumni who would prefer a black gown instead of a brown and gold gown. Price will fluctuate based on embellishments and style chosen.
Please note that fine quality regalia can take up to 8 weeks to arrive.
Nursing Pins
Nursing Pins are currently in stock and subject to availability. Please place all nursing pin orders here. Please note: Nursing Bars (Guards) have a chain that can attach to the pin, so they are typically sold together with a nursing pin (not alone). If you have any additional questions when ordering nursing pins, please contact the University Store directly at uwyo-bookstore@uwyo.edu.
Faculty Rental Regalia Form
Faculty must fill out THIS FORM to rent regalia for UW's Spring Commencement 2023.
PLEASE NOTE: The rental cutoff date is MARCH 10, 2023. After this date we cannot guarantee regalia rentals will arrive on time for the ceremony. Rentals can by picked up in the lower level of the University Store starting May 8th during normal business hours. They will need to be returned before MAY 17, 2023 back to the University Store.
Please be aware, if a faculty member orders regalia and does not attend the ceremony, the department will still be charged unless cancellation is requested BEFORE the order has shipped (typically no less than 2 weeks before distribution).