Updates
The University Store has reopened with a schedule of Monday-Friday 10:00am to 4:00pm. We are taking many precautions to keep our customers and staff safe, including social distancing measures, increased sanitation, and compliance with the guidelines established by the University. To access the University Store, come to the South doors of the Union, facing Coe Library (see map below). As always, the University Store is available 24/7 online. We hope you stay safe and healthy and we look forward to seeing you on campus or online.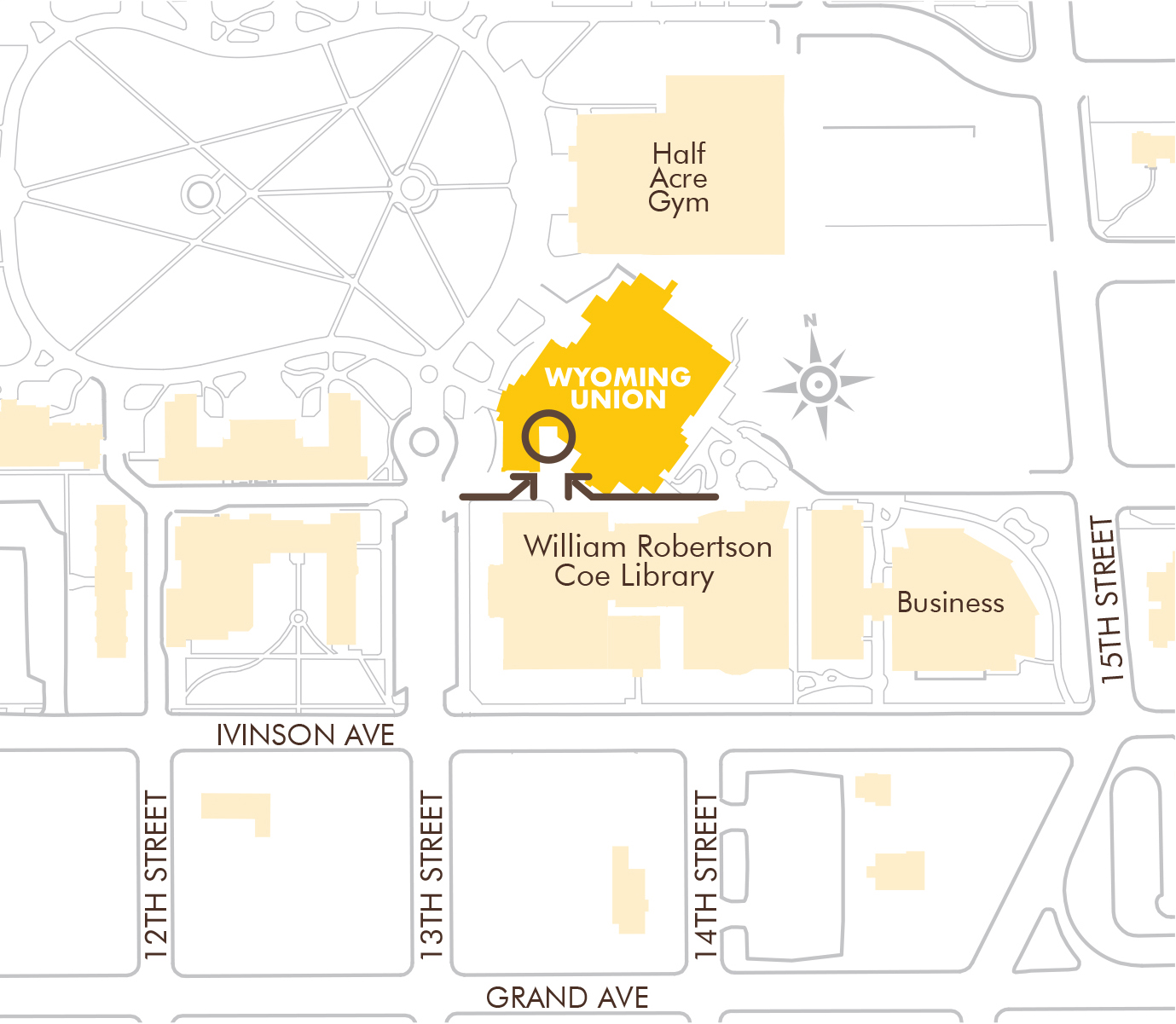 Campus Pickup and In-Town Delivery
To facilitate social distancing, the University Store has added new ways for customers to pick up their orders while minimizing contact. Our Curbside Delivery option is available in the Union Parking Lot to the East of the Union. In addition, once the Union has reopened, we will be offering pickup at our Walk-Up Window in the lower level of the Union, below Panda Express. To use either of these options, select Campus Pickup as your shipping method at checkout. Once your order is ready for pickup, you will receive an email with a link to our pickup scheduling system.

In addition to Campus Pickup options, we are providing free delivery to addresses within Laramie city limits. To use our free in-town delivery option, select Laramie Delivery as your shipping method at checkout. We'll contact you to schedule a delivery time.
Electronics
As the University community continues to alter course delivery and working arrangements in order to comply with social distancing guidelines, we realize that you may have changing technology needs, and we can help! The University Store has Electronics Associates available in the store during our summer hours of 10:00am to 4:00pm. In addition, we can be reached by phone at 307-766-3264 and by email at uwyostore-tech@uwyo.edu. As usual, we will offer extended store hours prior to the beginning of fall semester to give you time to address your technology needs before classes start.
Textbooks and Supplies
The University Store is working hard to accommodate student needs while adhering to the University's health and safety guidelines. Due to physical distancing guidelines and space limitations in our textbook area, we're requiring students to purchase their textbooks online for the fall semester. We will offer in-room delivery for students living in the residence halls who place their orders by August 3rd. Orders will be delivered prior to move-in to reduce contact. In addition, we are offering new pickup options once students have returned to campus. For more information on textbooks, please visit our textbooks page.