Ipad
Ipad 9.7"
Our Price:

$299.00 - $399.00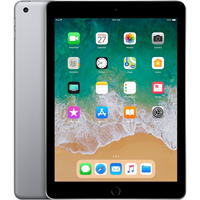 enlarge image
Product Description
This Apple product is available exclusively to eligible University of Wyoming Students, Faculty, Staff and Alumni. Additional verification for all orders placed will occur to confirm eligible status. Once affiliation with the University of Wyoming is verified, the order will be processed. All orders that do not meet eligible purchasing requirements will be cancelled.

Like a computer.
Unlike any computer.
If the computer were invented today, what would it look like? It would be powerful enough for any task. So mobile you could take it everywhere. And so intuitive you could use it any way you wanted — with touch, a keyboard, or even a pencil. In other words, it wouldn't really be a "computer." It would be the new iPad.